Custom Holographic Shaker Keychain
Regular price
$4.25
/
---
Product name
Holographic Shaker acrylic keychain
MOQ
3PCS
Printing
CMYK Printing
Packing
Opp Bag
The lead time
5-7 days after confirm the outline
The shipping time
2-7days excluding weekends
Notice

There is a protective film on the surface of vograce acrylic keychains(except the epoxy ones). The keychains will be very bright and transparent after films are torn off!

Custom notice

Please upload your shaker design and the small acrylic pieces design.

Sizes for small acrylic pieces: 0.8-4.5cm

Note: please be sure to design the edge which need the Opaque color.

Sequins and accessories can be directly choose in the website. All pieces can be shaked when holding in hand.
Product technology display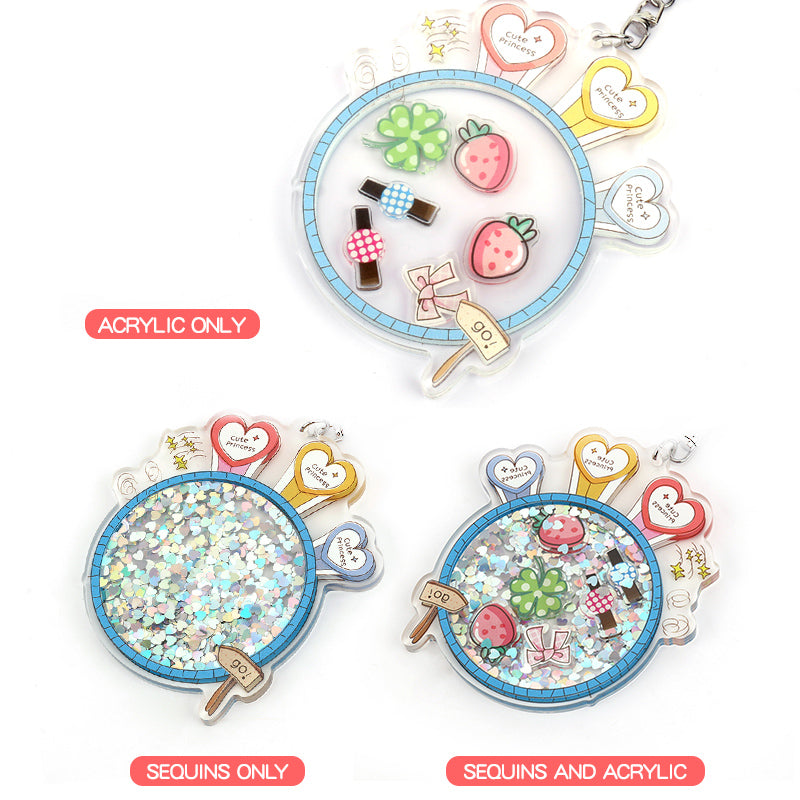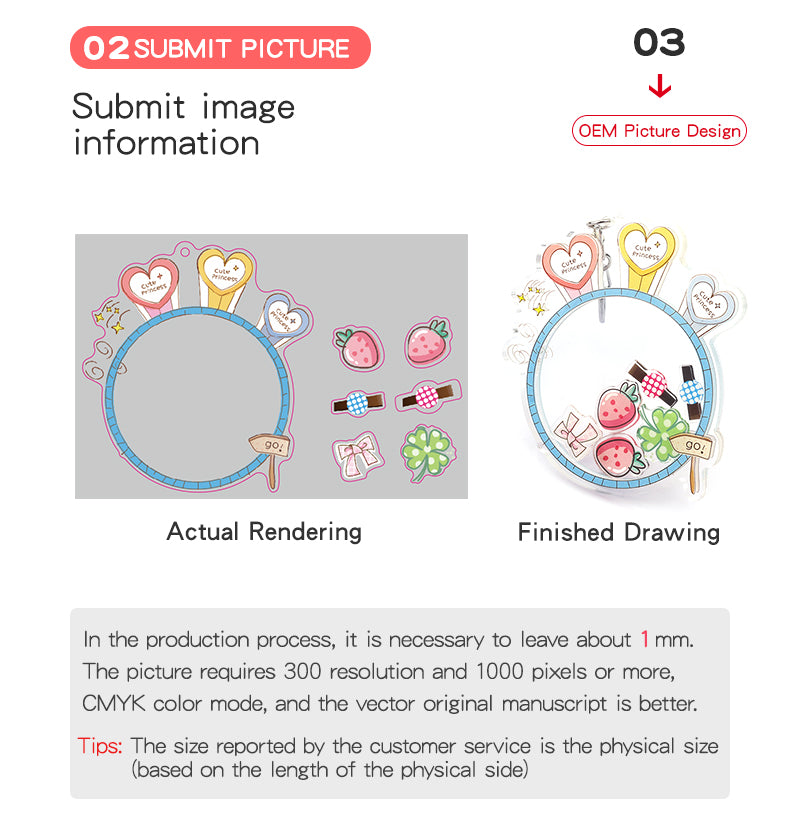 FAQ
1、Place order process:①Select item with (material, process, size, accessories, quantity, etc.) + upload file ②Add to shopping cart ③Fill your receiving address ④Select express ⑤Pay
Please refer to this blog for detailed process:https://vograce.com/blogs/news/how-to-make-an-order-from-vograce  
Warm Tips :
①If there have problem with the file you upload, we will contact you to modify it
②The default hole location is directly above the design. If the hole location needs to be placed in other positions, please leave a message or mark in the design. If there are hole position requirements or more than 10 orders, we will confirm the outline with you through the email. The others will be arranged to do the goods directly. If you have any problems with the products, you can contact us and we will ensure that they can be solved
  

2、File requirements
Please Upload PSD/PNG/PDF/AI file. Please providing CMYK colour. Need 300 resolution, 1000 pixels or more.
The best file to upload is PNG transparent background or PSD format.
Warm Tips : 
①Different design for double side, please separate the layer.
②If your design with semi-transparent part, please separate your design's semi-transparent art from your artwork as an individual layer in PSD file, and name it.
③Charm size should include charms border and hole and depends on the longest edge, not only the printing design size.

3、How to get more bargain?
Add the product to the shopping cart and you will see the discount price in the shopping cart. The more you order, the more discount you get.

4、Why are the colors different? chromatic aberration?
Dear friends, this article will explain the cause of color difference in detail. We want you to have the best experience in Vograce, so we provide some solutions for you to solve the problem together.
Please refer to this blog:https://vograce.com/blogs/news/why-are-the-colors-different-how-to-do-with-that 
5、How to know the status of the order?
① Collection: if you pay with PayPal, we will start processing your order after we collect. Before this, if there is any problem with the document or order information, we will contact you for modification by email
② Confirmation effect chart: if the order number of key buttons, standees, stickers, badges, pillows and PVC card is more than 10 or you have special requirements, we will confirm the effect chart (within 2 days after the collection). After confirming, we will arrange production
③ After delivery, we will inform you of the specific waybill number by email, and you can also check the logistics information by website navigation bar "Order Lookup"( https://vograce.com/apps/parcelpanel). 

6、if you still have questions, please click this: https://vograce.com/a/faq
Holographic Shaker Keychain is so called because of the inside fillers can shaker. Customers can choose various sequins and little acrylic fillers. The shaker keychain is designed by you and fast customized for you.