Frequently Asked Questions


Support Phone
+8613362934940
1. Low MOQ: Most products can be ordered from one to any number                        2. High Quality & Low Price: The products are of high quality and competitive price                  3. 60 Days of Worry Free Shopping: The after-sales time is 60 days. If you find your goods have quality problems within 60 days, you can contact us to deal with them                                  4. Meet all kinds of Customization Needs: If you have good ideas and other customized needs, you can let us know and we will try our best
Ordering
Place order process:①Select item with (material, process, size, accessories, quantity, etc.) + upload file ②Add to shopping cart ③Fill your receiving address ④Select express ⑤Pay
Please refer to this blog for detailed process:https://vograce.com/blogs/news/how-to-make-an-order-from-vograce
Helpful Tips :
①Different products, processes or accessories need to upload artwork separately and add shopping cart for unified settlement; for the same process and accessories, only need to upload the files and add the shopping cart for settlement (you can check the question 3 for help)
②If there is a problem with the file you've uploaded we will contact you to correct it.
③The default hole location is directly above the design. If you need the hole location to be placed in a specific position please leave a note or guide indicating where this location should be.
If there are specific hole location requests or if you have more than 10 items in your order we will contact you via email to confirm the outlines. If you order is not large enough to meet these specifications the product will go straight to manufacturing and you will not be contacted beforehand.
If you have any problems with the product please contact us and we'll be happy to help!
Template (you can download and use):https://drive.google.com/drive/folders/1rf1QCxUBHADJuIr36Fb11m-dC4L3SaEe
If products don't have template(such as transparent acrylic keychains), you only need to upload the original design to us. We have designer to make the cutline or hole for you, you just need to indicate your requirements(such as hole position).
Shaker acrylic keychain, serial/parallel keychains can design artwork as the following:(several small acrylic parts can put together in one file)
Note: when purchasing series / parallel Keychains, purchase the corresponding number of series / parallel keychains when placing an order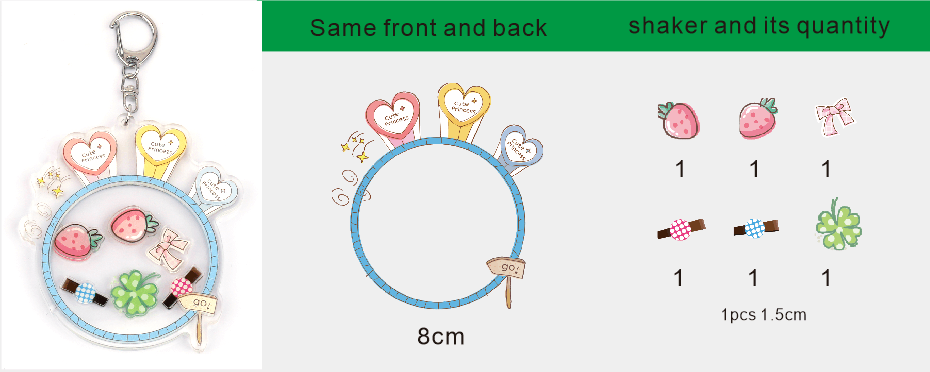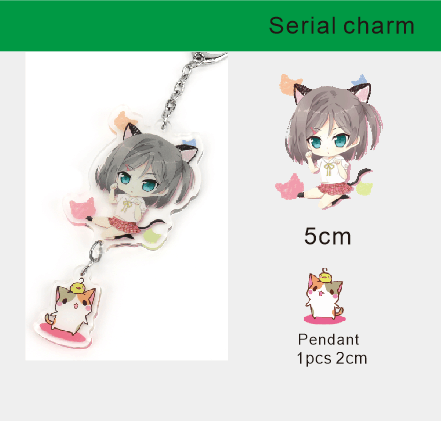 More than one designs for same size and same print technology can save files in this method: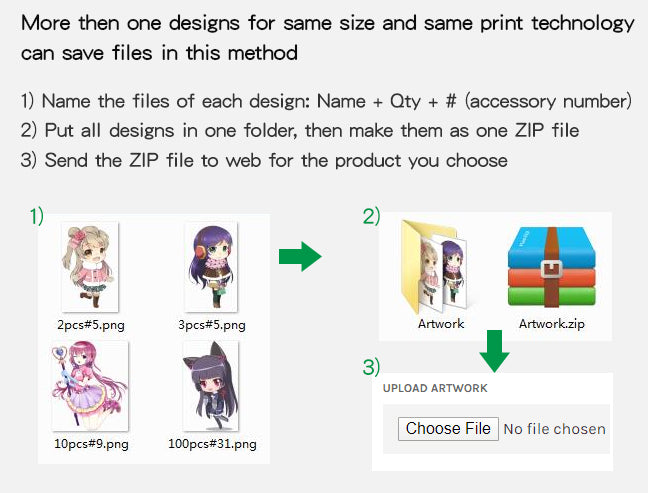 File Requirements
We accept: PSD, PNG, PDF, and AI files.
We request CMYK color. (Japan Color 2001 Coated CMYK is the default one)
For best results 300dpi - 1000x1000 resolution minimum is advised.
We highly prefer PNGs with transparent backgrounds or PSD formatted files.
Helpful Tips:
1. If submitting double sided designs please seperate the layer.
2. If you're submitting a design with a semi-transparent part please seperate the semi-transparent part as it's own layer in a PSD file and name it Semi-Transparent Layer.
3. Remember that the charm size includes the border, hole, and is determined by the longest edge of the design.
After you add the product to your cart you'll be shown your discounted rate. The more you order the larger your discount!
Paypal, Credit card(VISA,MasterCard,JCB,American Express )
We have a number of delivery options available for the safe transit of your goods. Our common delivery options are:
Fast Shipping : DHL, TNT, UPS, FedEx, 佐川急便, etc.(4-10days excluding weekends)
Standard(In some areas):CNE Express(10-20days), USPS(6-15days)
Standard(Russian):Russian Post(30-50days)
Economical(In some areas):CNE Express(20-35days), USPS(8-20days)
Ocean Shipping:30-60days
The express time limit is only used as a reference for transportation time, not including production time.
1. You can login your account to check the status of your order:
https://vograce.com/blogs/news/how-to-check-your-oder-statues
2. Collection: If you've paid with Paypal we will start processing your order as soon as the payment is collected. If there is a problem with the order information, we will contact you for modification before this processes.
Here are some status of your order :
● order status : Pending
● Processing artwork proof
● Please confirm your artwork proof
● On production (estimated delivery time:xx/xx-xx/xx)
● Shipped,Tracking number: xxxxxxx
3. Confirmation: If the total number of items (buttons, standees, stickers, keychains, pillows, PVC cards, etc) is more than 5 or if you have special requirements we will confirm with you via email within 2-7 business days after the payment has been collected. After you have approved of the proofs we will arrange for production to begin.
4. When will we send you the artwork proof for confirm ?
When the order status is : Processing artwork proof
(If you have ordered more than 5 (keychains, buttons, standees, stickers, pillows) or have special requirements, we will offer you with proof/cutlines for confirm. )
Please pay attention! The file upload limit is 20 MB. Exceeding this limit, the file cannot be uploaded. A 413 page will be displayed indicating that the file is too large.
You can add products directly to your shopping cart and do the following:
① You can send the file to the official email address of Vograce: service@vograce.com
② You can copy the image link from Google Cloud Drive and put it in the notes of your shopping cart.
If there is a problem with your order, for example, the goods you received were defective or in the wrong quantity. Please contact us within 72 hours of receiving any defect and we will deal with it as soon as possible.
Please send proof to your email or contact service@vograce.com
No, no changes can be made after confirming the approval of the diagram. Carefully review your confirmation drawings before approval. Once approved, we automatically add your order to our production queue and aim to ship as soon as possible. If the modification is required after confirmation, the scrap amount shall be paid.
Declines can happen for a variety of reasons. When we submit a charge to your bank, their automated systems determine whether or not to accept the charge. These systems take various signals into account, such as your spending habits, account balance and purchase size.
Since these signals are constantly changing, a previously successful card might be declined in the future. Even if all of the card information is correct, and you previously had a successful payment using your card, a future charge can still be declined by a bank's overzealous fraud systems.
Can you tell my why my card was declined?
We only know as much as your bank tells us about the reason for a decline. Unfortunately, in most cases, the bank informs us that the card was declined and doesn't give a specific reason.
What should I do if my card is declined?
If all of the card information seems correct, it is best to contact your bank and ask for the charge to be accepted. They should be able to see the attempted charge, provide a reason for the decline and lift whatever restriction is preventing your purchase.
Alternatively, you could order using PayPal. If you don't have a PayPal account balance, selecting PayPal during checkout will still give you an option to pay using your credit card. It's possible that a card that was declined by our payment gateway will be accepted by PayPal, but ultimately it's best to contact your bank to determine the root cause of the problem.
Yes, artwork repurposing makes it easy to use previous designs on new orders. After choosing a product, size and quantity, you can choose to upload new artwork or select a past design.
More flexible than reordering, artwork repurposing allows you to order a different product with the same design or change the size of the artwork.
While we do not offer wholesale pricing, we offer discounts based on each order's specifications, which are shown in the cart.
We want to be fair to all of our customers, so we built discounts into a pricing algorithm that uses each unique design's product, style, size, and quantity to calculate your costs. The more you order of a particular design, the cheaper each unit becomes. We also offer free artwork setup, unlimited proof revisions, discounts for multiple designs, fast turnaround and weekly promotions.
We make it easy to cancel your order or individual items anytime before you approve your proofs. Please note that after you approve a proof, you cannot cancel an order.
Of course, you can contact customer service via email to cancel.
But be warned: once all proofs are approved and an order is in production, it's not possible to cancel. Since reorders skip proofing and go straight to production they also cannot be canceled.
Although rare, our production team may send a design back to proofing if we run into problems during cutting or weeding. We try to be as flexible as possible, but some complicated designs require modifications for us to make them.
Usually we can predict these changes before production, but sometimes we cannot and need to send the item back to proofing for additional changes to be made.
If this happens, we will notify you and require you to approve a new proof before we begin production again. Your ship date will likely be pushed back when this occurs to give us enough time to properly process your order.
We cannot help you design custom stickers/pins/acrylic products from scratch. If you have an existing design, we can make minor changes to it as required during proofing (e.g., we can add your website address or modify the borders).
You can make a note when placing an order--use the same design as the previous shopify***** order (there is a note input box in the lower left corner of the shopping cart)
Acrylic Keychain
Acrylic charms are made with a solid, clear acrylic material that can be printed in full color and cut to any shape.
Yes, we can. But if there are words in the pattern, you need to provide a back design, otherwise the words in the back pattern will be reversed.Different design for double side, please separate the layer.
Our default Keyring hole size is 2.8mm for the inner ring.
For special accessories, the hole size is 4.2mm for inner ring.
Yes you can,need to mark the position of the holes. serial/parallel keychains can design artwork as the following:(several small acrylic parts can put together in one file)
Note: when purchasing series / parallel Keychains, purchase the corresponding number of series / parallel keychains when placing an order
https://vograce.com/products/custom-series-connection-acrylic-charms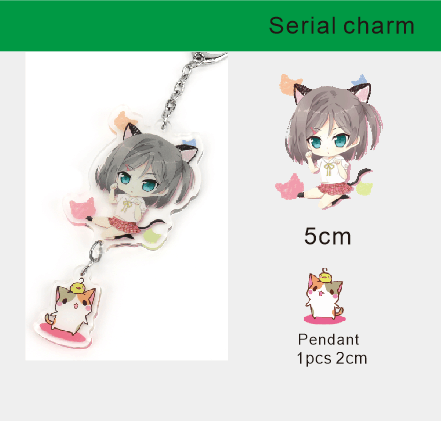 We offer acrylic charm samples and we have the Sample Pack for you to choose.
Yes, the acrylic material in our charms is recyclable.
Our general acrylic charms sizes are from 1" to 4".
The maximum size is 297mm×420mm.
If you order charms over 4'', you can contact the salesman for the detailed price.
Our acrylic charms are 3mm~8mm thick.
The minimum quantity for acrylic charms is 3,We don't have the maximum order quantity.
Yes, in addition to the epoxy technique, every acrylic charm includes a clear, protective film to prevent scratching. Acrylic charms with protective film
You can choose freely from over 30 choices and you can also choose not to buy the accessories.
Acrylic charms can be printed in full color and cut to any shape.
Acrylic charms are secured in a opp bag or shipped in a protective bubble mailer.
Yes, you can choose different types of keychains according to your needs.
Yes, every acrylic charm includes a clear, protective film to prevent scratching.
Currently, including seven colors.

Yes, vograce can print gradients for your acrylic products as long as you provide gradients for your design.
Vograce offers double-sided epoxy with a high scrap rate, so the price will be a bit expensive, please contact us if you need it. Email:service@vograce.com
Because we have some strict requirements on the outline of the keychain in our production, it is recommended that you only need to provide the design draft without outline, and the rest will be done by our designers.Thanks !
When you place an order, please note that you need to use the same design as the previous order :(shopify*****)
Stickers
Yes, we offer sample packs with a collection of a Sticker Sample Booklet,and a Double sided printed acrylic charm,a Tinplate Pin, a Lanyard, a Washi Tape for $5.
Additionally, we provide free online proofs for orders so that you can see how we intend to print and cut your stickers before we make them.
Our custom stickers are fade resistant for 2 years. The printing is water resistant too.
Yes, our custom stickers are weatherproof. They're able to withstand exposure to wind, rain and sunlight. Our stickers are coated with a protective laminate that makes them super durable and resistant to fading and water.
We offer custom sticker starting at just 50 pieces.
We offer all types of custom stickers: die cut stickers, kiss cut stickers, clear stickers, vinyl stickers, and more. You can choose according to your use.
Yes, our custom stickers have a permanent adhesive which adheres to most fabrics. Although, they will not withstand a washing machine and will not have the holding power as an iron-on adhesive would.
Use the longest edge portions of your design to determine the
Yes, you are able to write on our custom stickers. We find permanent markers and ballpoint pens work best. Depending on the type of ink used, you may need to give the ink chance to dry before using your stickers.
You can place designs as you wish in the size range, with an interval of 10mm between the designs
How many stickers can I fit on a sticker sheet?
The number of stickers that can fit on a sticker sheet depends on the size of each sticker and the size of the sheet. Each sticker must be at least 10 mm space from the other stickers and all the stickers should be at least 2-2.5mm space from the edge of the sheet.
Yes, our custom helmet stickers are coated with a protective laminate to make them resistant to wind, rain, water, sunlight .
However, it may not be possible to apply a sticker across a curved surface cleanly. The stickers will still be durable and stay applied, but a larger sticker may have creases after being applied. For best results, we recommend smaller stickers such as 1" or 2" on curved surfaces.
You can also order custom stickers as large as 297mm×420mm.
A die cut sticker is a sticker that's cut into a unique custom shape to fit a logo or piece of artwork.
Yes, you can print on the background of a kiss cut sticker. The background can be in full color or include text (e.g. web address or email address).
Holographic stickers are stickers printed on a unique vinyl with an eye-catching rainbow effect which changes with light and perspective.
Holographic stickers are as sturdy as our original stickers, but with an added iridescent shine.
The design edge is required to leave 3 mm.
If you want to do a bleeding free (no white edge), you need to expand the design by 3 mm.
① It can be marked in the design drawing.
② Write your request directly in the notes on the shopping cart page.
Stickers feature a strong, permanent adhesive.
The easiest way to remove old stickers is by hand. Our material is durable and will not split into multiple pieces. Most stickers have a strong adhesive, but will come up when removed with force. If there is residue remaining, you may try an adhesive remover such as Rapid Remover to help. Rapid Remover is intended to remove adhesive easily and without the mess.
Other products such as Goo Gone or WD-40 can be helpful, too.
Yes, vograce can print gradients for your stickers as long as you provide gradients for your design.
Pins
Currently, we offer metal pins, tinplate pins, acrylic pins
The minimum quantity for custom button pins is 1, custom enamel pins is 50
Custom pins are placed in opp bags and shipped in boxes to prevent damage during shipping. You can also custom the paper cards package.
There is no maximum order quantity for custom pins. But remember to confirm the production time with our salesman.
It is our new products which are very rare in the market. The holo glitter film effect at the bottom will be shown through the transparent part of the design, showing the dazzling effect.
There will be Glitter Holo effect for the design excluding the white background layer.
Customized pins can be printed in full color and cut to any shape.
The product itself does not emit light, but it does reflect light.
Yes, in addition to metal pins and soft enamel pins, Vograce can print gradients on your pin as long as your design provides gradients on it.
Miscellaneous
No, we can only print CMYK colors. It's on our roadmap to add support for RGB colors, but we do not know when this will be possible.
When artwork is submitted in RGB, the colors are converted to their closest available matches in CMYK before going to print. If you let us know your desired CMYK values when ordering it will make it easier for us to print your desired colors. Otherwise we will use our judgement to decide the closest equivalents.
Since RGB has a larger range of colors than CMYK, some RGB colors are currently difficult or impossible to match exactly.
Japan Color 2001 Coated CMYK is the default one.
If you have noticed important email notifications from VOGRACE about your order, proofing and shipping information going to spam or being blocked, you can take the following steps to help:
①Find the VOGRACE email message in your spam or junk folder.
②Open the message and click the "Not Spam" or "Not Junk" button. This should move the current message (and future messages) to your inbox.
We use a water based adhesive that is non-toxic. Vinyl is not, however. Also, all of our materials are OSHA compliant.
The size entered on the web page is the size of the outer frame.
You need to ensure the size of upright and base and then draw a box to put these two parts into it.
Then the size of the frame is the size you need to enter.
The full version of the size of the decoration is the size of the entire frame, rather than the size of the decoration individual.
If you have specific size requirements can be marked in the design, otherwise the image processor will be equal scale layout.
We work very hard to ensure that you are 100% satisfied with the products you receive from VOGRACE.
If you are not satisfied with any of the products you receive, you have up to 60 days to contact us and provide a clear and concise description of the problem.
Please do not return any product to us unless instructed to do so by a member of the VOGRACE team.
We are happy to replace...
A) Goods damaged in the course of transport;
B) Inconsistent with the products or parts specified in your order;
C) The material/size specified or provided in your order is incorrect
If customization has been completed according to your requirements, there will be no refund and return if the problem boils down to the following points
A) Your design;
B) The final result is not as you expected, and you don't like it, etc.
C) After you have confirmed the renderings and have produced them, you decide that you do not want them
D) The address is incorrect and the customs fee is returned without payment
E) The wrong size or process has been ordered
Orders already in production or completed need to be refunded due to your personal reasons, and you need to bear the cost of the part already produced.
Color difference problem can not be avoided, can be proofing first. If the color difference is too big, we can make it again for you.
The sample
We do offer a sample service, and you should expect to produce multiple prototypes of your design before moving into final production. This will give you a clearer idea of what the final design will look like and help you avoid any disappointment once you receive the finished product.
Semi-transparent design needs to be set up by yourself, Vograce makes the outline for you.
Need to provide a semi-transparent layer: Set a translucent layer named semi-transparent;
If the color is light, the opacity will be higher, if the color is dark, the opacity will be lowered.
Go to the shopping cart page of the site,
When the number of products is large, there is a text box next to the subtotal where you can enter the coupon code!
When the number of products is small, please click ① first to jump to the next step and enter the coupon code at ②.
Please draw on a separate transparent layer.
No need (within 3 months) . No mold fee is required for re-ordering within 3 months. Because the mold should not be placed for too long, otherwise it will rust.
The old phone grip has been removed from the shelves, now we sell the foldable mobile phone holder and the universal wrist hand band phone grip.
However, if you still want the old phone grip, you can contact the sales person to order it with a minimum order quantity of 50 pieces.