Frequently Asked Questions


Support Phone
+8613362934940
1. Low MOQ: Most products can be ordered from one to any number                        2. High Quality & Low Price: The products are of high quality and competitive price                  3. 60 Days of Worry Free Shopping: The after-sales time is 60 days. If you find your goods have quality problems within 60 days, you can contact us to deal with them                                  4. Meet all kinds of Customization Needs: If you have good ideas and other customized needs, you can let us know and we will try our best
Ordering
Place order process:①Select item with (material, process, size, accessories, quantity, etc.) + upload file ②Add to shopping cart ③Fill your receiving address ④Select express ⑤Pay
Please refer to this blog for detailed process:https://vograce.com/blogs/news/how-to-make-an-order-from-vograce
Warm Tips :
①Different products, processes or accessories need to upload artwork separately and add shopping cart for unified settlement; for the same process and accessories, only need to upload the files and add the shopping cart for settlement (you can check the question 3 for help)
②If there have problem with the file you upload, we will contact you to modify it
③The default hole location is directly above the design. If the hole location needs to be placed in other positions, please leave a message or mark in the design. If there are hole position requirements or more than 10 orders, we will confirm the outline with you through the email. The others will be arranged to do the goods directly. If you have any problems with the products, you can contact us and we will ensure that they can be solved
Template (you can download and use):https://drive.google.com/drive/folders/1rf1QCxUBHADJuIr36Fb11m-dC4L3SaEe
If products don't have template(such as transparent acrylic keychains), you only need to upload the original design to us. We have designer to make the cutline or hole for you, you just need to indicate your requirements(such as hole position).
Shaker acrylic keychain, serial/parallel keychains can design artwork as the following:(several small acrylic parts can put together in one file)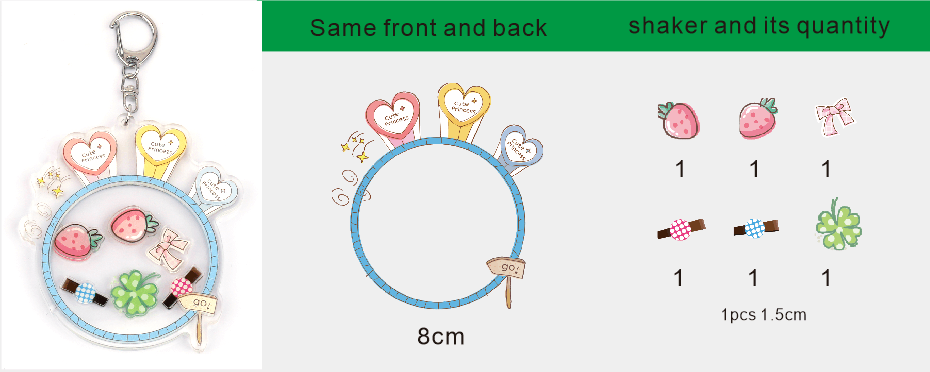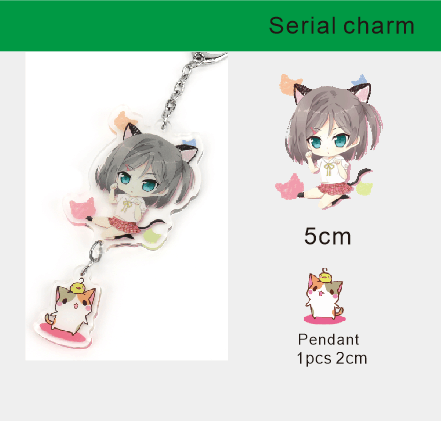 More than one designs for same size and same print technology can save files in this method: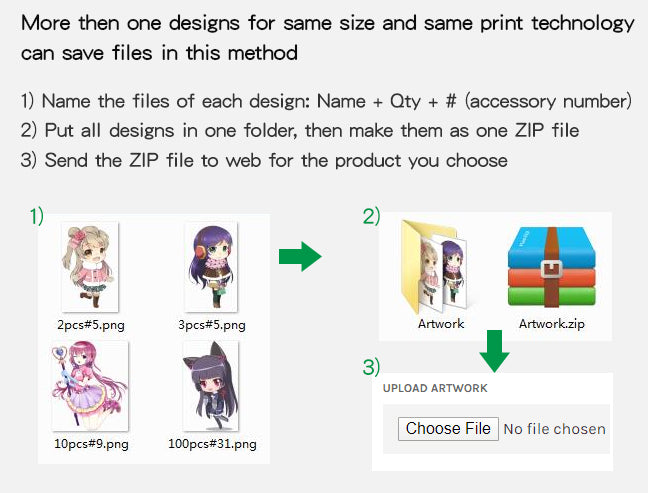 Please Upload PSD/PNG/PDF/AI file. Please providing CMYK colour. Need 300 resolution, 1000 pixels or more.
The best file to upload is PNG transparent background or PSD format.
Warm Tips :
①Different design for double side, please separate the layer.
②If your design with semi-transparent part, please separate your design's semi-transparent art from your artwork as an individual layer in PSD file, and name it.
③Charm size should include charms border and hole and depends on the longest edge, not only the printing design size.
Add the product to the shopping cart and you will see the discount price in the shopping cart. The more you order, the more discount you get.
Paypal, Credit card(VISA,MasterCard,JCB,American Express )
We have a number of delivery options available for the safe transit of your goods. Our common delivery options are:
Expedited:FedEx ,TNT,UPS,DHL,etc.(2-7days excluding weekends)
Standard(In some areas):USPS,CNE Express(10-20days excluding weekends).
Acrylic Keychain
Acrylic charms are made with a solid, clear acrylic material that can be printed in full color and cut to any shape.
Yes, we can. But if there are words in the pattern, you need to provide a back design, otherwise the words in the back pattern will be reversed.Different design for double side, please separate the layer.
Our default Keyring hole size is 2.8mm for the inner ring.
For special accessories, the hole size is 4.2mm for inner ring.
Yes you can,need to mark the position of the holes
We offer acrylic charm samples and we have the Sample Pack for you to choose.
Yes, the acrylic material in our charms is recyclable.
Our general acrylic charms sizes are from 1" to 4".
The maximum size is 297mm×420mm.
If you order charms over 4'', you can contact the salesman for the detailed price.
Our acrylic charms are 3mm~8mm thick.
The minimum quantity for acrylic charms is 1,We don't have the maximum order quantity.
Yes, in addition to the epoxy technique, every acrylic charm includes a clear, protective film to prevent scratching. Acrylic charms with protective film
You can choose freely from over 30 choices and you can also choose not to buy the accessories.
Acrylic charms can be printed in full color and cut to any shape.
Acrylic charms are secured in a opp bag or shipped in a protective bubble mailer.