How to make an order from Vograce?
Vograce specializes in animation peripheral and IP product customization and supply. If you have a great idea and create an artwork but don't know what to do with it, why not considering making your own products that won't cost much and start your own career? Vograce would help you to produce your own IP products. How to make an order from Vograce?
1. Search "vograce" or "vograce.com" in search engine like Google/Bing, find and click on vograce.com.
2. After entering the home page of vograce.com, find what type of products that you want to customize.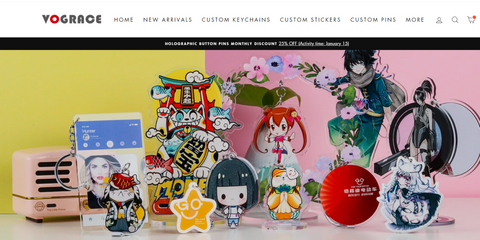 3. Click on the product page that you're interested in.
4. Choose what technique, size, color, accessory (if any) and quantity.
5. Upload your artwork to Vograce:
More than one designs for same size and same print technology,
Name the files of each design: Name + Quantity + # (accessory number)
Put all designs in one folder, then make them as one ZIP file
Send the ZIP file to web for the product you choose
If there are front and back printing requirement ,please separate the layer, please mark at your PSD diagram layer and choose double-side printing when you place order.
If your design with translucent part,please separate your design's translucent art from your artwork as a individual layer in PSD file,and name it.
Charm size should includ charms border and hole and depends on the longest edge,not only the printing design size.
Note:
A. Please check if you have chosen the right size, quantity.
B. Please check if there are any missing pictures.
6. Add to cart:
1)How to add shopping cart for different products?
After adding 1 product into the shopping cart, you will see "continue shopping", please click on it, then you can continue to shop for other products. Click on "UPDATE CART", then check out.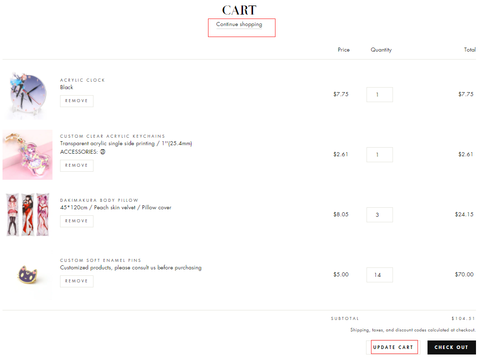 2) If you want to change the quantity, click on (see picture below)

3) If you want to move out a product in your cart, please click on REMOVE OUT in Cart.
7. Discount price: we provide discount prices for bulk ordering such as below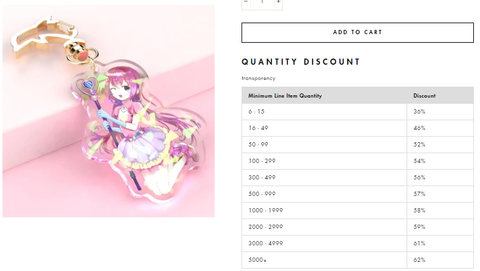 The discount price will show in cart as below: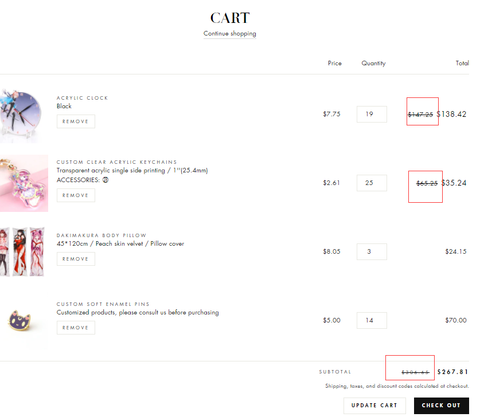 8. Add your contact information.
Email: If you infrequently used mailbox, please leave us a note about your Facebook/Twitter contact info.
Address: Please write your correct address including the correct city and correct ZIP code.
9. Add the coupon code:
 Fill in the coupon code in the blank of the cart and click the "apply".


10.Choose shipment method:

If you ordered from Vograce, we provide a number of delivery options available for the safe shipping of your goods. Our common delivery options are:
Expedited:FedEx, TNT, UPS, DHL, etc.(2-7days excluding weekends)
Standard (In some areas): USPS, Hermes, Canada Post, Aupost (10-20days excluding weekends).
Notice: The shipping time does not include the production time!
11.Fill in the address and other information carefully
The address and other information need to be filled in correctly. The loss of express delivery failure caused by not filling in correct information shall be borne by the customer
12. Payment method:
When you order from Vograce, you can pay by Paypal and credit card (VISA, MasterCard, JCB, American Express). See also at DELIVERY INFORMATION.
Precautions for follow-up purchase at Vograce
After we receive the payment, it means that your order has been processed.
If the quantity is more than ten or there are special requirements for remarks, we will send the rendering confirmation within 2 working days after receiving the payment. Please check your email. Notice: The email may be treated as spam. Thus, don't forget to check it in your email box.
We will fill in the shipment number after delivery. The shipping confirmation email will then send to you.
Orders paid in advance but not produced for a long time:
For orders that cannot be produced for more than 3 months due to customers, we will send you a reminder email again after the order exceeds 3 months. If the email does not reply within a week, we will process a refund (a handling fee may be processed). If you need to continue to make it, you can place another order.
About the return policy if you order from Vograce
We try our best to ensure that you are satisfied with the products from Vograce. However, if you are not satisfied with the products, you have up to 180 days from receipt of delivery to contact us. Please do not return any products to us unless you have been instructed to do so by a member of the VOGRACE team.
We will replace goods that are:
a) damaged in transit;
b) the wrong product or part to that specified in your order;
c) the incorrect material / size to that specified or supplied in your order.

If custom jobs have been completed on your request, we are unable to refund or replace goods if the problem is down to...
a) your design;
b) the end result didn't turn out as you hoped it would.

What should you know before order from Vograce?
We provide a sample service, and you should expect to produce several prototypes of your design before going into final production. This will give you a clearer insight into how your final design will look and will help to avoid any disappointments once you have received your finished products.
If you have any questions and suggestions, please feel free to contact us. You can choose to email us at service@vograce.com. Welcome to follow us at Facebook, Twitter.
Wish you and your family happy and healthy.
---