Attractive PVC Rubber Keychain-- Deserve to Collect and Customize
Explanation of terms:
PVC rubber, the term is often used in Vograce; in the industry, it is also known as "PVC rubber", "PVC soft plastic".
Production process:
It is a mixture of PVC melted rubber and a certain proportion of oil. It is poured into the grinding tool and cooled to form the shape and pattern we want.
Custom PVC Rubber Keychains are not only soft, bendable, waterproof and long lasting  but also has no skin irritation. At the same time It has strong three-dimensional effect, bright color, good hand feeling and visual effect. It can be custom-made in the shape, size and design as you wish.
We have professional key chain customized service, with advanced printing equipment and professional manufacturing team; our products can be made into a variety of shapes and sizes, smooth edges, bright surface, a soft PVC texture, and a variety of exquisite accessories to choose. Our products are not only exquisite but also practical!
We can produce PVC rubber products for personal trinkets, corporate activities gifts, small gifts, advertising promotional materials. Our PVC rubber products  include keychains, badges, coaster, Winder, and other special-customized  products.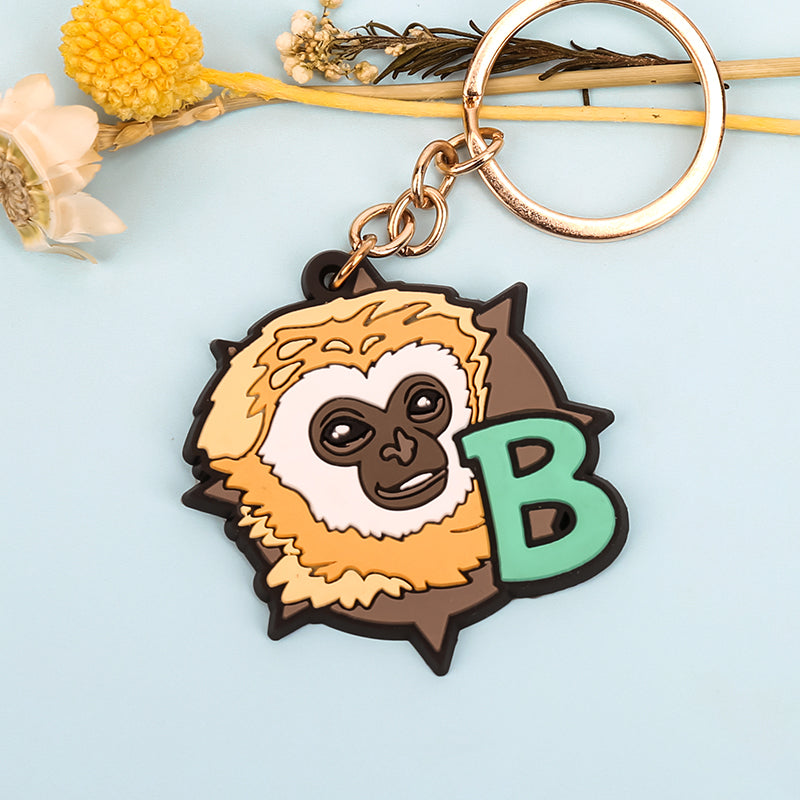 Composition
PVC soft rubber + metal key ring
Website link
Soft rubber Keychain can be customized here: https://vograce.com/products/custom-pvc-rubber-keychain
Notice
It is necessary to consult the salesman and you can provide information such as size, process, quantity, accessories and color quantity for quotation. The more you order from Vograce, the more discounts you will enjoy. Welcome to visit and shop at Vograce.com.
Size
You can customize all sizes and people usually want the size of 5-7cm
Color
Any color can be customized except the gradient color
Advantages
Beautiful, durable, three-dimensional, bright color, compact. Products can be customized according to customer requirements of different specifications, color, thickness, grade, packaging, etc. Can do logo, is the first choice as a promotional gift business.
Background color
There is a difference between translucent and solid colors. The price is also different.
The translucent background color can be chosen from blue, white, yellow , red, black.
Mold cost
Soft glue needs to be made by opening mold; mold cost is required for each different pattern.
The price is related to the complexity and quantity of size and color.
Process
Single side OR Double side
1 One side:
The default thickness is about 4mm (we think it is more beautiful), it also can be thickened, and the thinnest thickness is 3mm.
2 Double sided:
1) The front is a pattern, and the back is a QR code. (We recommend this to you)
2) The front and the back both have patterns.(The thickness is 8 mm, so double-sided adhesive dislocation and adhesive gap sometimes happen . Special attention is required.)
Creative: 
We have a professional R&D team. New products are updated irregularly, you can subscribe with us by email or follow Vograce on Facebook and Twitter. If you have any great ideas and designs, welcome to contact us, we will help you to make the production. 
Picture requirements
Clarity requirements: 300 resolution, 1000 pixels.
Color requirements: CMYK color value is standard, or Pantone color value can also be.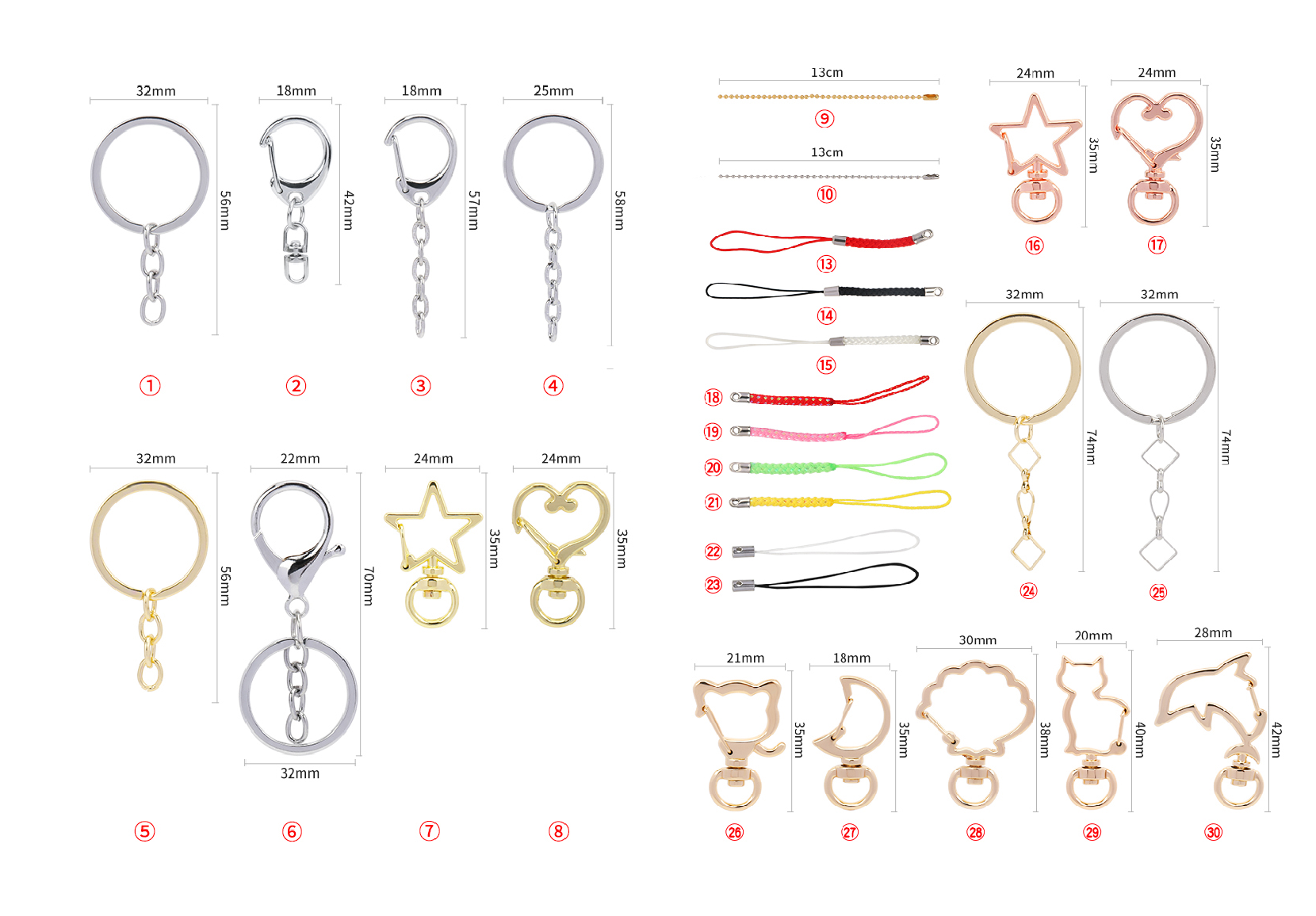 What keychain accessories do Vograce supply?
When you choose a type of keychain products, if you don't want holes, please leave us a note. Learn more about how to make an order from Vograce. There are more than 30 kinds of accessories in total at Vograce to choose from. Different products have limited accessory choices. Please see details at the product page that you want to purchase.
It is also okay if the customer sends the accessories to us for installation. Some additional manual fees will be charged according to the complexity of the installation.
Accessories are constantly updated. Please check the latest Vograce webpage description content.
What packages do Vograce provide?
The default is opp bag individual package. It is okay if the customer sends the packages to us for packing. Some additional manual fees will be charged according to the complexity of the packing. Customized package is available at Vograce.
How long will you receive your package from Vograce?
The lead time needs 12-17 days after confirm the outline. Then there will be 2-7 days excluding weekends for shipping time. 
Vograce shipping policy:
Expedited: DHL, TNT, UPS, FedEx, etc. (2-7days excluding weekends)
Standard (In some areas): USPS
Vograce freight:
The specific freight is determined by the weight of the goods and the destination. For details, you can check the order submission page when you enter the shopping cart in Vograce.com.
Should you worry about illegal copy or piracy if you order from Vograce?
Of course, you don't need to worry about it. As for now, there is no complaint about piracy from Vograce's customers. Vograce customers have their intellectual property rights protected relating to the content they create or upload to Vograce.
Vograce Introduction
You can purchase charms, keychains, standees, badges and more from Vograce. All can be custom-made including images, sizes, colors, shapes, accessories and package. Vograce has a factory with professional equipments and about 200 employees. High quality and fast delivery are ensured.
Learn more at:
---