MINI Notebook! The coolest in the summer!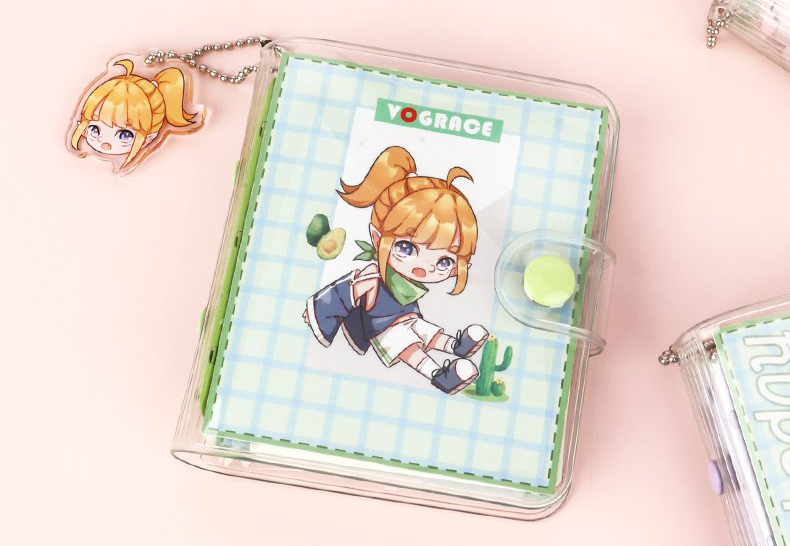 Hi, friends, I'm very happy to introduce our little cute - Super Mini notebook. You can design the Acrylic Pendant, and customize the cover.
There are 6 colors of cover casing for you to choose: purple, green, blue, pink, transparent, red.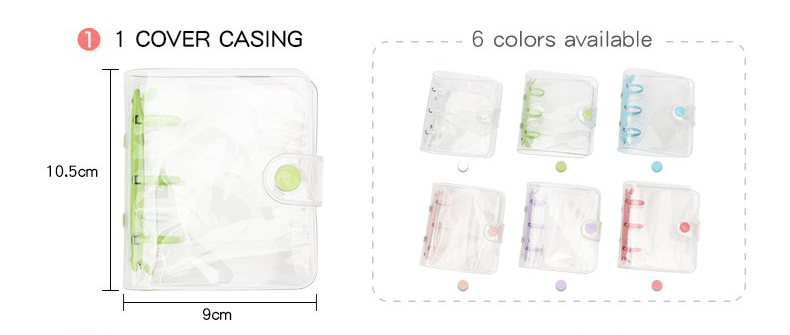 You also can custom your cover, and here is our samples for you.
But we believe you will have much better designs for yourself!
Also, you can custom the packaging cards such like these pictures.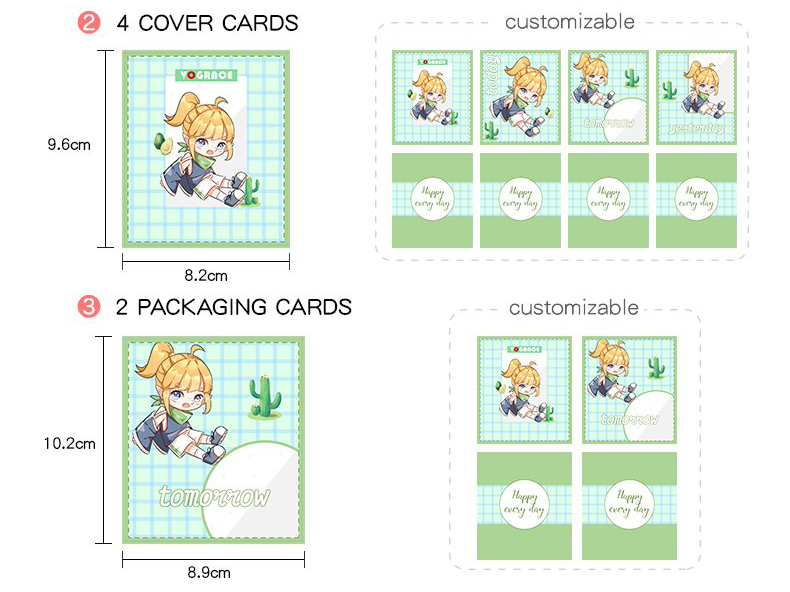 Pendant
Our default accessory is 3.5 cm and double-sided printing.
Bead Chain
There are two colors of chains for you, you can choose from silver or golden chain.

Inner Pages
4 kinds of pages can be chosen:
(1)Cartoon Paper
(2)Dot Paper
(3)Graph Paper
(4)Lined Paper

Here is our default card holder and the packing box.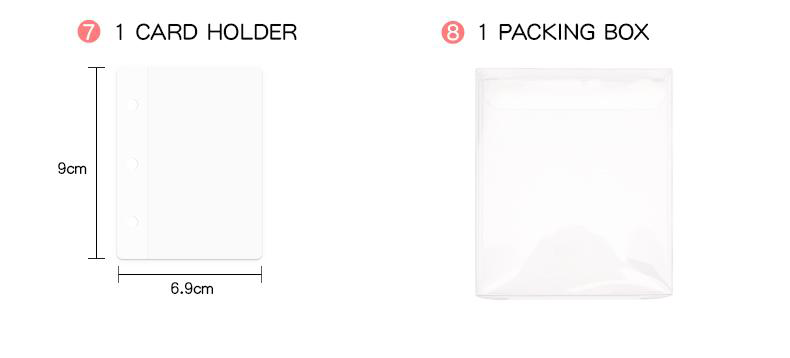 You can submit image information including the acrylic pendant and the cards.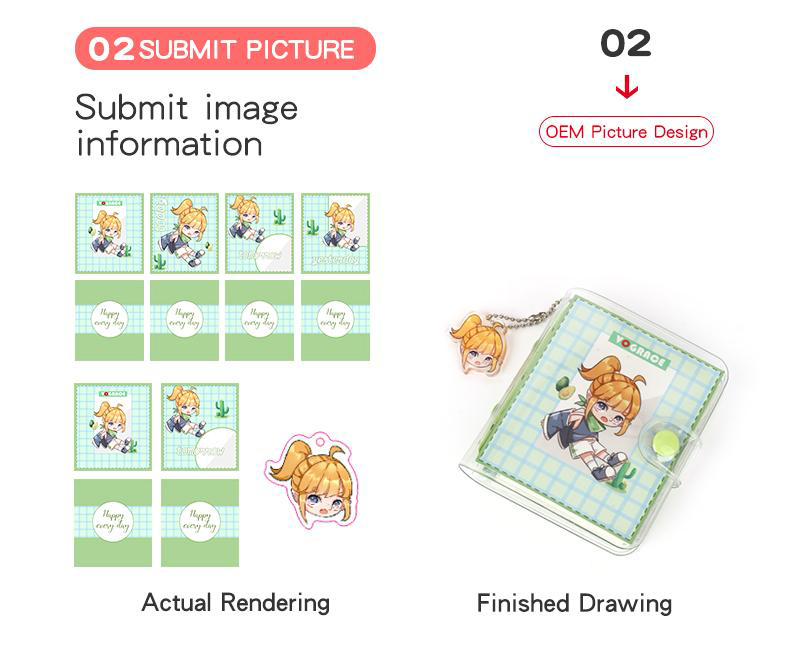 Picture requirement:
PS file, 300 resolution, CMYK color print, card need bleeding 1.5 mm.
Template
https://drive.google.com/drive/folders/1Udy0sq7aqzWtqQcMrTXp13noZ66b-rLh?usp=sharing
MOQ: 5 pieces, can be different designs.
The more you order, the heavier discount you get.
Then you will get your cute or cool notebooks!
If you have any problems you can contact us, and if you have more requirements, we will try to meet them as well!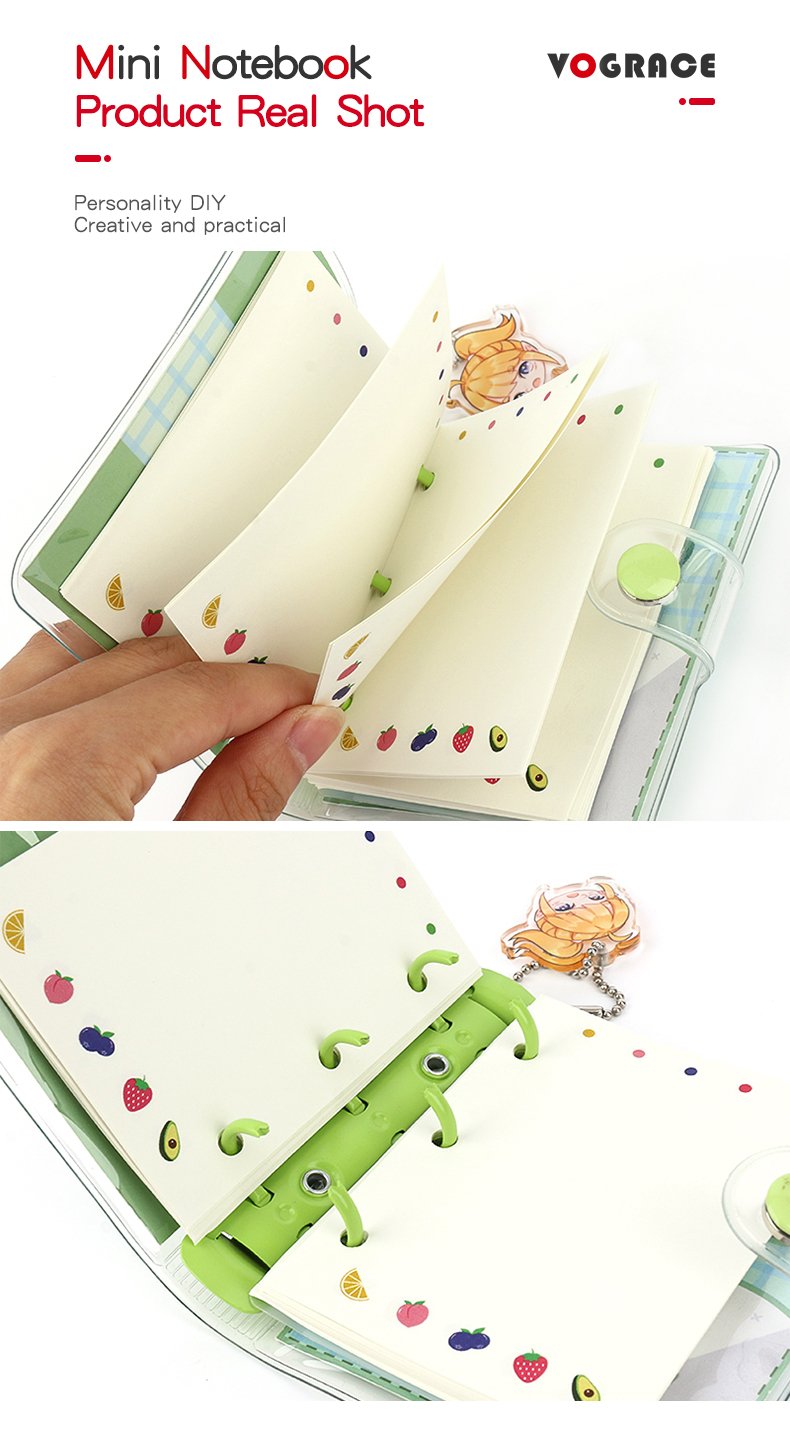 About Vograce
Vograce is a professional anime peripheral product manufacturer and supplier. IP products, personal artworks and patterns can be customized. Vograce specializes in custom-made keychains, badges, pins, stickers, standees, tote bags and Washi Tape. Other custom-made products such as acrylic boxes, acrylic clocks, body pillows, cards, lanyards, magnets, mini notebooks, mousepads, stamps, throw pillows, umbrellas are also available.Those products are good for advertising, promotion, collection, decoration, retail, wholesale, etc
1 Low MOQ
Most products can be ordered from one to any number
2 High Quality & Low Price
The products are of high quality and competitive price
3 60 Days of Worry Free Shopping
The after-sales time is 60 days. If you find your goods have quality problems within 60 days, you can contact us to deal with them
4 Meet all kinds of Customization Needs
Precautions for follow-up purchase at Vograce
After we receive the payment, it means that your order has been processed.
If the quantity is more than ten or there are special requirements for remarks, we will send the rendering confirmation within 2 working days after receiving the payment. Please check your email. Notice: The email may be treated as spam. Thus, don't forget to check it in your email box.
We will fill in the shipment number after delivery. The shipping confirmation email will then send to you.
Orders paid in advance but not produced for a long time:
For orders that cannot be produced for more than 3 months due to customers, we will send you a reminder email again after the order exceeds 3 months. If the email does not reply within a week, we will process a refund (a handling fee may be processed). If you need to continue to make it, you can place another order. 
LEAR MORE AT:
Design - Questions and answers
Why are the colors different? chromatic aberration?
Acrylic Keychains Manufacturing Guide
Expoxy Keychain&3D Keychain Instruction
---