What is candy charm? What should you know before order from Vograce?
Candy charm is mainly defined according to its shape. It is a new style in the charms, which is named after its candy coat.
Vograce candy charm production process:
Plate printing, cutting and forming, adding fillers, inflatable sealing, and installing accessories. 
Vograce candy charm main purpose:
Collection of animation lovers, wholesale and retail, participation in exhibition sales, gifts.
Candy charm composition: PET shell + sequins and acrylic + accessories
 Specification size: PET candy skin 7x5cm
Color: customer design, internal sequin selection
 Material: Shell PET + Contents (Sequins + Acrylic)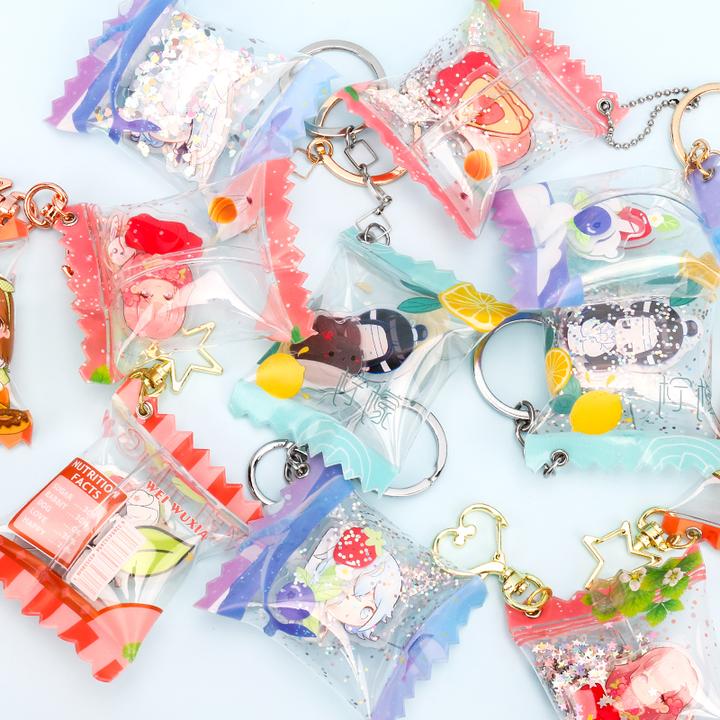 Craft: machine printing, inflatable compression molding process
 Duration: 20-25 days
 If there are more than 2000 quantities for an order, the time is almost 15 days. If the quantity is small, it takes about 25 days instead, because the orders are printed on the machine together. (Orders quantity: 25 designs x 50 pieces)
Vograce Custom Candy Charm MOQ: 10PCS,10pcs/design
Accessories: The default is silver bead chain.
Sequins: 1g by default, additional weight can be added with additional charges (for sequin selection, refer to the product website page)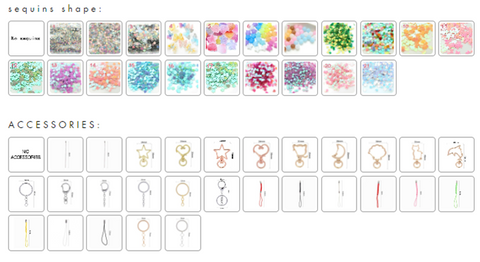 Acrylic: No perforation. The default is single-layer double-sided printing, within 1.5-4.5 cm. Suggest less than 5 acrylic pieces. 
Picture requirement when you upload your artwork:
① Resolution: above 300 resolution, color format: cmyk
② Size: see template for candy packaging
③ File format: psd
④ Printing surface: double-sided
⑤ File naming format: please name the graphics files uniformly as [Customer ID_Quantity] Example: Arthur_50 pics (PS: Customer ID is the customer's account name for placing your order) and provide the assembly requirements and quantity of your content and graphics files
What should you know before ordering candy charm from Vograce?
Due to process reasons, there may be slight color difference between candies and acrylic sheets, which is a normal phenomenon and cannot provide after-sales service. Please understand. If you find a large color difference, please contact us in time for correction.
There may be some places on the package that are not neatly pressed or deformed and embossed, which are caused by process limitations and are not defects.
The weight of sequins in an inflatable candy charm is about 1g, which may be more or less.
The serrated part of the inflatable candy charm should not be designed with precise alignment, as it may be cut crooked.
Due to the defect rate of the finished product of the inflatable candy charm, the quantity may be insufficient, and the money can be returned to the customer with a related amount.
The amount of air in the inflatable candy charm cannot be precisely controlled, and there may be more or less which has little effect.
Due to the heating and pressing process of the inflatable charm, the color block may be fractured due to heat during the pressing process. Due to the limitation of the process, it may not be available for after-sales.
Extended Reading:
How to make an order from Vograce?
Why choose acrylic charms, acrylic keychains custom-made from Vograce?
---