Why choose acrylic charms, acrylic keychains custom-made from Vograce?
Acrylic charms or acrylic keychains are widely used over the world because the acrylic material is cost-effective, highly adaptable, can be shaped freely, with relatively fast production period and comprehensive craft style. Vograce supplies various acrylic products such as keychains, charms, standees and badges that can be custom-made.
What is acrylic?
Acrylic is a kind of chemical material and is generally a kind of plastic. Our products are made of acrylic sheets of any size and shape, cut and bonded. The advantage of acrylic material is that the style can be customized freely, and it is highly adaptable and will be very exquisite through processing. The material colors are white, transparent, and can be made into colorful series.
Acrylic material is a commonly used material for our company's key export products. It currently accounts for over 60% of all Vograce products.
Utilization of acrylic product series: mainly customize anime acrylic charms/keychains/standees, and will also be used as advertising promotional gifts, anime accessories, collections, decorations, etc.
What are the advantages of acrylic products over metal products?  
Products such as charms, keychains made of acrylic can be customized freely, durable, eco-friendly, odorless, colorful and light in weight compared with metal ones. The acrylic products are pretty that can be printed with bright colors and cut into any shape.
What acrylic product does Vograce supply?
Vograce supplies acrylic charms, keychains, shakers, candy charms, clocks, fridge magnets, action figure boxes, phone holders, badges, button pins, cards, and standees. If you want to order and can't find the product page on Vograce.com, please make an inquiry through email or Facebook or Twitter.
What are the differences between ordinary acrylic and clear acrylic products?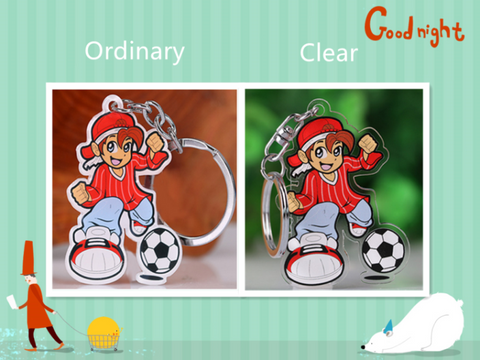 Ordinary acrylic products:  
It is printed on paper and pasted inside the acrylic sheet.
The edges are white because of the white paper; or it can be printed with color.
The paper will not be put at the first layer (or surface).
The surface is made of acrylic which is smooth.
Low price, fast production period and clear image.
Clear acrylic products:
The special ink is printed directly on the high-transparent PET film through a professional UV printing process and then pasted on the acrylic sheet.
The edges or parts that are not printed are clear or transparent. Therefore, it is called clear or transparent acrylic.
The surface is delicate and smooth.
The color is high-definition and bright.
The paint generally does not fall off.
The material is relatively thick, with high brightness, and very good texture.
Vograce supplies clear acrylic products. You can find our products on Vograce.com. Apart from the clear acrylic keychains, there are candy keychains, shaker keychains, holographic acrylic keychains, glitter acrylic keychains, epoxy keychains, rainbow acrylic keychains, colorful acrylic charms, metal frame keychains, etc.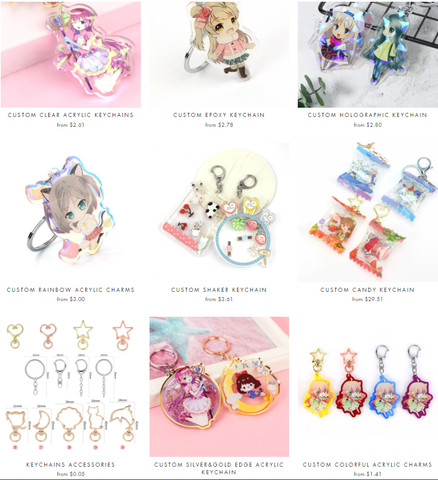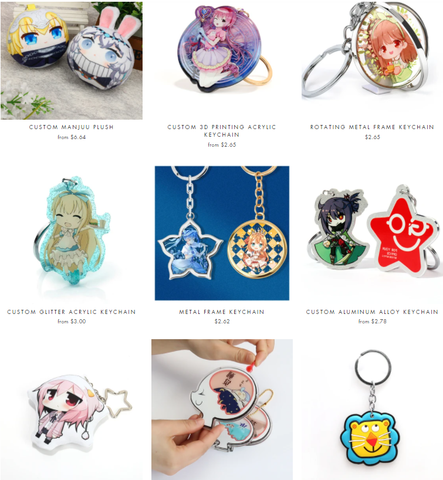 You can purchase charms, keychains, standees, badges and more from Vograce. All can be custom-made including images, sizes, colors, shapes, accessories and package. Vograce has a factory with professional equipments and about 200 employees. High quality and fast delivery are ensured.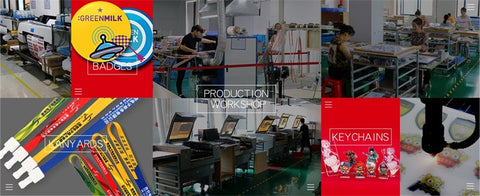 Vograce Clear or Transparent Acrylic Charms/Keychains Process Description:
The process is unified as 2.5MM transparent board + printing + 1.0MM transparent board.
The printing process is divided into single-sided printing, double-sided same printing, and double-sided different printing.
The default 2.5MM transparent board is the reverse side, and the 1.0MM transparent board is the front.
The epoxy side defaults to the front side.
The special ink is printed on the high-transparent PET film through a professional UV printing process, and then attached to the acrylic sheet. The edges or parts that are not printed are transparent.
The printing surface is smooth and more delicate; the colors are much brighter.
Vograce uses diamond cut process, which is an upgraded process of the ordinary version, to ensure smooth edges, high transparency, and no cutting marks. There is no plastic smell.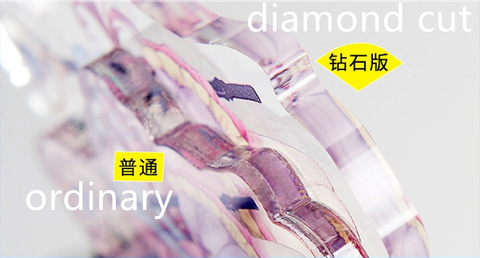 What are the special features of Vograce Acrylic Charms or Keychains?
Epoxy process: Epoxy acrylic charms or keychains have strong surface texture and three-dimensional effect. The epoxy will protect the surface from abrasion. Epoxy has good water resistance. Epoxy acrylic charms or keychains are more upscale, more expensive than those without epoxy. The none-epoxy product has fast delivery period and lower price. The epoxy is normally 0.2 mm thick. 
Hot stamping process: Vograce acrylic charms or keychains can be stamped with golden or silver edge which makes the products more pretty and shiny. The golden and silver stamping should stay away from acid, alkali, alcohol, etc in case of erosion.   
Holographic: Vograce acrylic products can also be made with holographic film. You can choose broken glass or star holographic effect.
Glitter: If you like, you can also choose glitter acrylic that goes with single-side epoxy.
Rainbow acrylic charms used another kind of rainbow film that goes with single-side epoxy.  Rainbow acrylic charms show different colors when we see them from different angles.
What keychain accessories do Vograce supply?
When you choose a type of keychain products, if you don't want holes, please leave us a note. Learn more about how to make an order from Vograce. There are more than 30 kinds of accessories in total at Vograce to choose from. Different products have limited accessory choices. Please see details at the product page that you want to purchase.

It is also okay if the customer sends the accessories to us for installation. Some additional manual fees will be charged according to the complexity of the installation.
Accessories are constantly updated. Please check the latest Vograce webpage description content.
What packages do Vograce provide?
The default is opp bag individual package. It is okay if the customer sends the packages to us for packing. Some additional manual fees will be charged according to the complexity of the packing. Customized package is available at Vograce.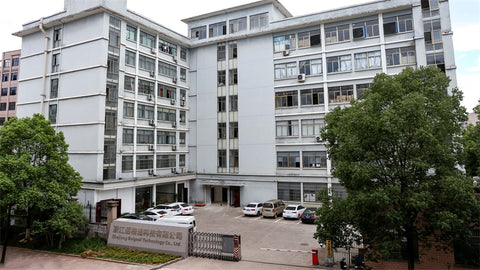 Vograce is a professional anime peripheral product manufacturer and supplier. IP products, personal artworks and patterns can be customized. A diversity of products provided. Your design copyright and privacy are protected at Vograce. Welcome to purchase keychain, stickers, pins, badges, standees and other products custom-made from Vograce.
---