How Custom Vinyl Stickers Can Help Transform Your Spaces?
Hello fellow creators! Today, we're going to talk about custom removable vinyl reusable stickers and what makes them so exciting.
Custom vinyl stickers are one of the best ways to test your creativity, promote your brand or add a unique touch to your accessories. Due to the endless design possibilities and the durable nature of the vinyl material, these stickers are expected to last a long time while still providing eye-catching appeal.
Just imagine having the ability to design your own stickers that you can use on your luggage to enhance your friend's identity or enhance your creativity. Well, all this is possible using custom vinyl stickers.
What makes vinyl reusable stickers so exciting?
 Let's start with the basics. Our vinyl reusable stickers are not your ordinary stickers. They're eco-friendly, tough and made to bring your vision to life. Here's why you should be excited with anticipation:
Endless Customization
This is where your creative juices flow freely. You can decide the size, design and message of your stickers, tailoring them to your exact wishes.
Do you have a unique shape or size in mind? No problem! We are here to turn your ideas into reality.
Environment friendly
We are passionate about our planet. These stickers are made from eco-friendly vinyl material, ensuring that your creations are not only attractive but also environmentally responsible.
Versatility 
The possibilities are endless. Whether you're branding, personalizing your gadget, or adding an artistic touch to your world, these stickers are perfect for the job.
Very easy to apply and remove:
No headache here! Our stickers are designed to be easily removed and reused, allowing you to change your style whenever you're in the mood. Plus, they don't leave any sticky residue – talk about hassle-free!
Custom quantity
Buy only what you need. Our MOQ (minimum order quantity) is only 50 pieces, and you can mix and match the designs as you like. Want more? Simply multiply by 10 (for example, 100 stickers = 10 in the quantity column).
How to get your creative juices flowing?
Making your own vinyl reusable stickers is as easy as this with our straightforward process:
Simply upload your design file in formats like PSD, PNG, PDF, AI, JPG, or CDR. Make sure it is in CMYK color mode with a resolution of at least 300 pixels. Our recommendation? Choose a PNG file with a transparent background or use the PSD format for best results.
Customize to your heart's desire
Choose the size, design and quantity of your choice. If you have special requirements or ordered more than 10 items, we will also provide proof to make sure you are thrilled with the result.
Create, implement and reuse:
Once you have your stickers in your hands, let your imagination run wild! Stick them on laptops, water bottles, notebooks – wherever you want to leave your mark.
And here's the beauty – commitment issues? Not with these stickers. They are both removable and reusable!
Embrace the magic of customization
Whether you're an artist eager to share your masterpieces, a brand with a story to tell, or someone who loves to personalize their world, our vinyl reusable stickers are the canvas for your creativity .
Start today and watch your thoughts manifest one by one. Don't miss the chance to add a personal touch to your life or brand.
So, join the sticker revolution and let your creativity shine with our vinyl reusable stickers!
 About Vograce
Vograce is one of the leading anime peripheral products manufacturers and suppliers, providing custom stickers that take your creativity to the next level. Providing you with personalized IP products, personalized artworks and patterns, Vograce offers you custom washing tapes, tote bags, standees, stickers, pin badges and keychains.
This platform makes it easy for you to access a wide range of custom items for promotions, decorations, wholesale and retail.
Low MOQ
High Quality & Low Price
The products are of high quality and competitive price
60 Days of Worry Free Shopping
Meet all kinds of Customization Needs
Things to Consider While Ordering at Vograce 
Once you make payment, we will process your order quickly. But if there are multiple items or you have specific requirements, please confirm the rendering within 2 working days after payment. Don't forget to check your email box!
What Packaging Options Does Vograce Offer?
We offer the default option of individual opp bags for packaging. If customers prefer to send their own packaging materials for us to use, we can accommodate that as well. Additional manual fees may apply based on the complexity of the packing. Additionally, Vograce provides the option for customized packaging solutions.
What is the estimated timeframe for receiving your package from Vograce?
At Vograce, after confirming the outline, we have a lead time of 12-17 days. Following that, there will be an additional shipping time of 2-7 days, excluding weekends, to get your package to you.
Vograce shipping policy:
Expedited: DHL, USPS, FedEx, etc. (2-7 days excluding weekends)
Standard (In some areas): USPS
How is the freight cost determined by Vograce?
The specific freight cost is determined by the weight of the goods and the destination. For detailed pricing information, you can check the order submission page when you enter the shopping cart on Vograce.com.
Is there a concern about illegal copying or piracy when ordering from Vograce?
Rest assured, there is no need to worry. We have not received any complaints about piracy from our customers at Vograce. We take intellectual property rights seriously and ensure that our customers' content is protected when they create or upload it to our platform.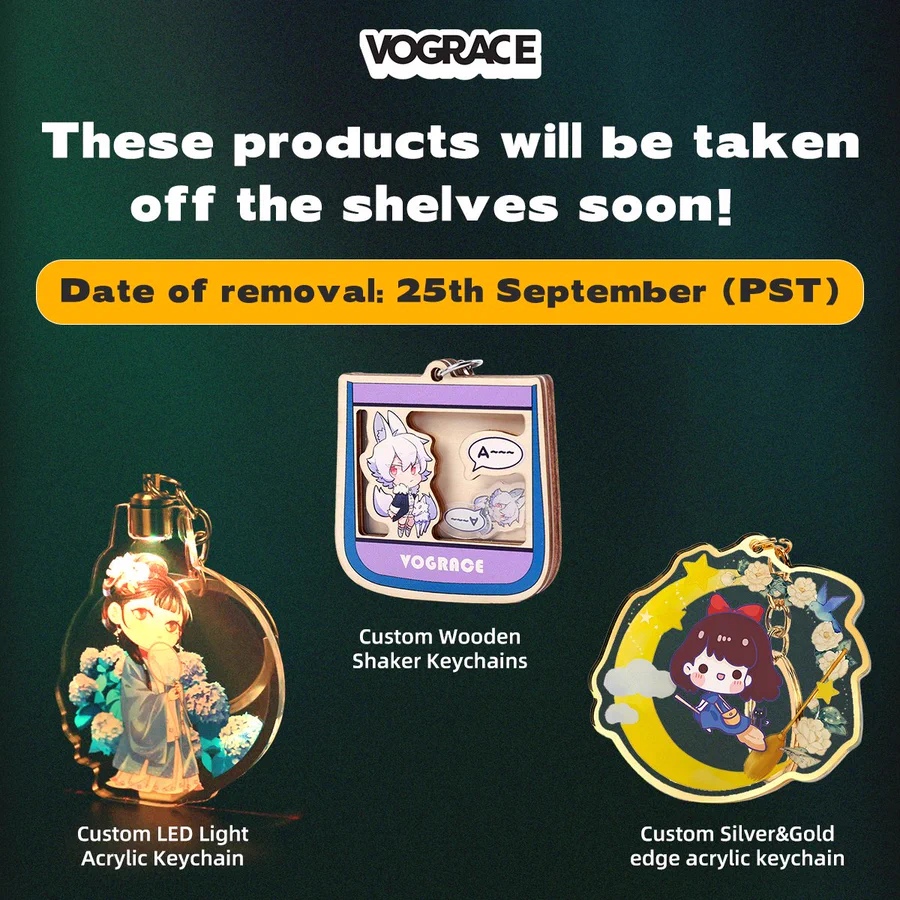 ---