Vograce shaker keychain review
Vograce, as a professional customizable anime peripheral and IP product manufacturer and supplier, specializes in acrylic series and tinplate series product R&D. Their acrylic charms and keychains are highly praised in this industry. Today we will make a review on Vograce shaker keychains.

What is shaker keychain?
Vograce shaker keychain is made of acrylic with zinc alloy accessory. Customers provide their design or artworks, Vograce will deal with the order from manufacture to assemble. The shaker charm is so called because its inside stuffing can move freely when we shake it. Shaker charms are popular for their creative and cute designs. They can be used as hand-held decompression toys.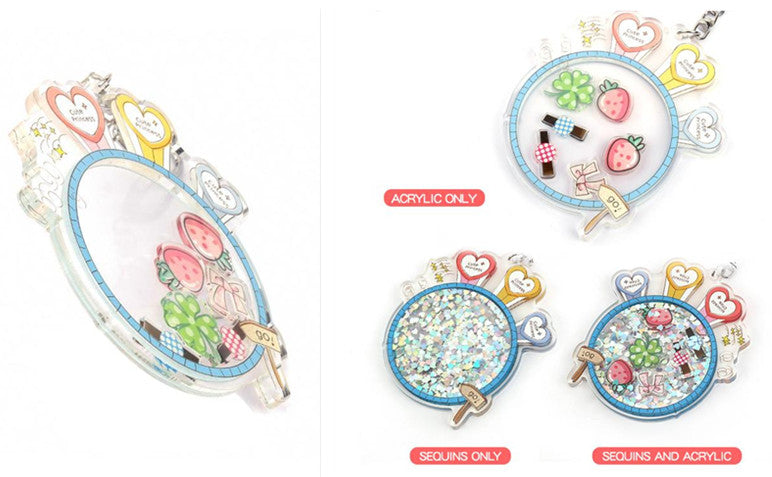 What are the features of Vograce shaker keychains?
Vograce shaker keychains are custom-made according to customers' demands including the shapes, patterns and small parts. Currently, the shaker size varies from 2.5 inches to 4 inches (63.5 mm to 101.6 mm). You can choose 0-10 pieces of interior small acrylic ornaments. There are 3 type of decorative sequins to choose from. 34 type of keychain accessories to choose from. If you don't want accessories or key rings, keychains, that will be okay. 
Vograce Shaker Charms process and craft:
Customers provide designs or artworks, we will be responsible for rendering, printing, filming, cutting (via mold or machine), assembling and delivering. We usually leave a 1-2.5 mm transparent edge. The left and right mirror images need to be UV printed on two 1.5 mm acrylic boards respectively. The UV printing don't fall off. The middle board uses a 2.0 mm double-sided rubber acrylic sheet for laser contour engraving.
Shaker charms usage: anime enthusiast, wholesale, retail, display, toy, decoration, gift, etc.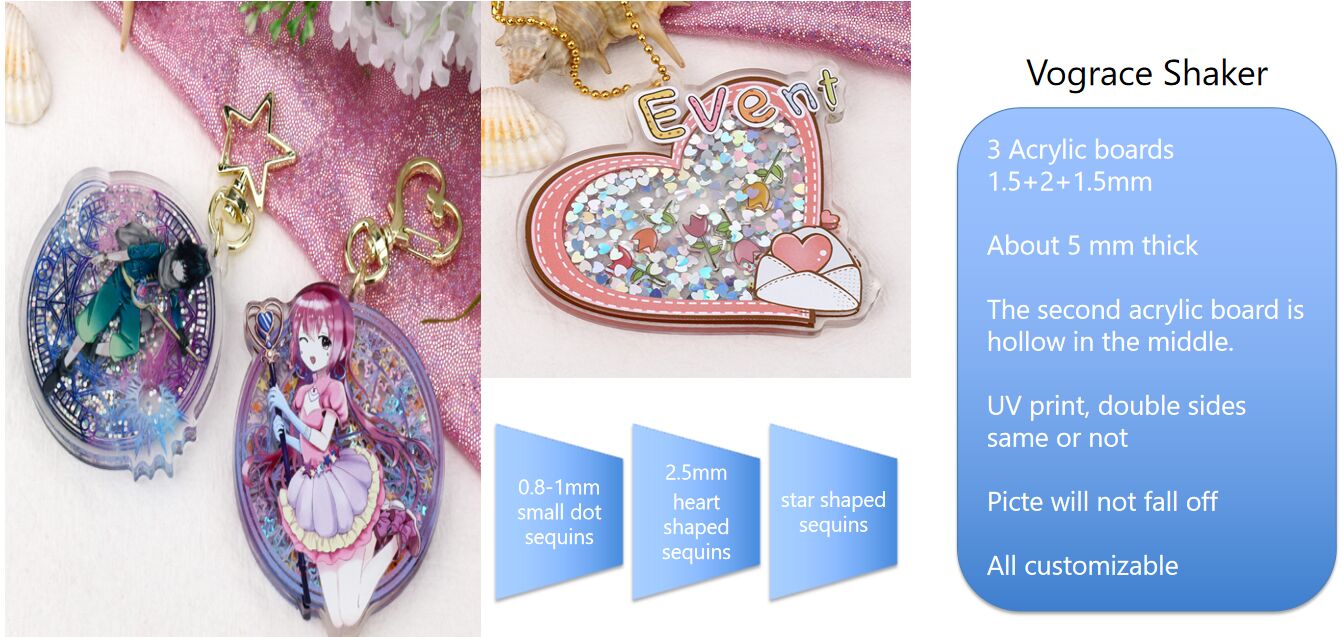 Warm tips: There might be little glue on the edges. Regular production time is 4 days. 
As for discount, Vograce has launched a monthly discount day. The discount can be 25% for designated Vograce products. You can follow Vograce on Facebook or Twitter to receive monthly discount notices. Because the discounted products are different each month, so it may not be your wanted type. However, if you want to save money, large quantity order is preferred.


If you don't care about money, just want to try to make your own personalized collections, you can also order from Vograce. The MOQ starts from 1 piece. If you have a creative idea but don't know who to design, Vograce provides design service as well.
By the way, there will be scratches on the inner wall of Shaker charms due to the friction of small parts inside. If both sides are printed blank, the scratches will be more obvious. If you stay away, you won't be able to see the scratches clearly. Therefore, I strongly recommend that you design the back side of the shaker charm with a full pattern printed, so that the inner scratches will not be so conspicuous.
How long will you receive your package from Vograce?
The lead time needs 5-7 days after confirm the outline. Then there will be 2-7 days excluding weekends for shipping time. If you order samples that Vograce has in stock, you will receive your package from Vograce within 3 days as the shortest time.

Vograce shipping policy:
Expedited: DHL, TNT, UPS, FedEx, etc. (2-7days excluding weekends)

Standard (In some areas): USPS/Hermes (10-20days), Canada Post (10-25days excluding weekends)

Vograce freight:
The specific freight is determined by the weight of the goods and the destination. For details, you can check the order submission page when you enter the shopping cart in Vograce.com.
Should you worry about illegal copy or piracy if you order from Vograce?
Of course, you don't need to worry about it. As for now, there is no complaint about piracy from Vograce's customers. Vograce customers have their intellectual property rights protected relating to the content they create or upload to Vograce.

Extended reading:
Trademark and Copyright policy for Vograce customers
How to make an order from Vograce?
Why choose Acrylic charms, acrylic keychains custom-made from Vograce?

In summary, if you like shaker charms or shaker keychains, Vograce is a good option. Their product quality is top in the industry. As for pricing, the more you order, the better discount you get. I highly recommend you to order different Vograce products together in order to save shipping fares. There are different sorts of stuff such as stickers, lanyards that you can choose at vograce.com. 
---