Custom Acrylic Standees Manufacturing Guide
Vograce custom acrylic standee is composed of standee and base. You can order personalized acrylic anime standees, clock standees and colorful LED light standees with or without remote controls from us. These standees are perfect desktop decorations. Let's see our custom acrylic standees manufacturing guide.  
Custom clear acrylic standees manufacturing guide
We use eco-friendly transparent acrylic sheets through single/double-side printing. Shape, size, design on the standees are customizable. You can use acrylic standees as desktop decorations, gift, promotion, advertising and so on. MOQ: 1PCS.
Acrylic standees can be customized in various forms, such as: single-layered, multi-layered, rockable, slidable, mobile phone holder, pen holder, etc. 
Single-layered Acrylic Standee
Multi-layered Acrylic Standee
Slidable Acrylic Standee
Phone holder Acrylic Standee
If you have more good ideas, please let us know, and we will try our best to help you realize it.
In addition to the custom decoration part, you can also customize the packaging. Our default packing is bubble bag. There are two types of paid packaging.
Custom golden edge acrylic standees manufacturing guide
The thickness of normal golden edge acrylic standee is about 3.6 mm and the largest size can be 175x275 mm. UV printing layers of Vograce custom acrylic standees with golden edge:
What are the features of Vograce custom golden edge acrylic standees?
The golden edge acrylic standee is pretty, scratch resistant, watertight, free to custom, with 3D effect. The price is not expensive. White glue will appear on the edge if soaking water. There might be slight bubbles in the golden edge. Our factory makes manufacturing around 5 days so that you won't wait for a very long time.
Custom Acrylic Clock Standees manufacturing guide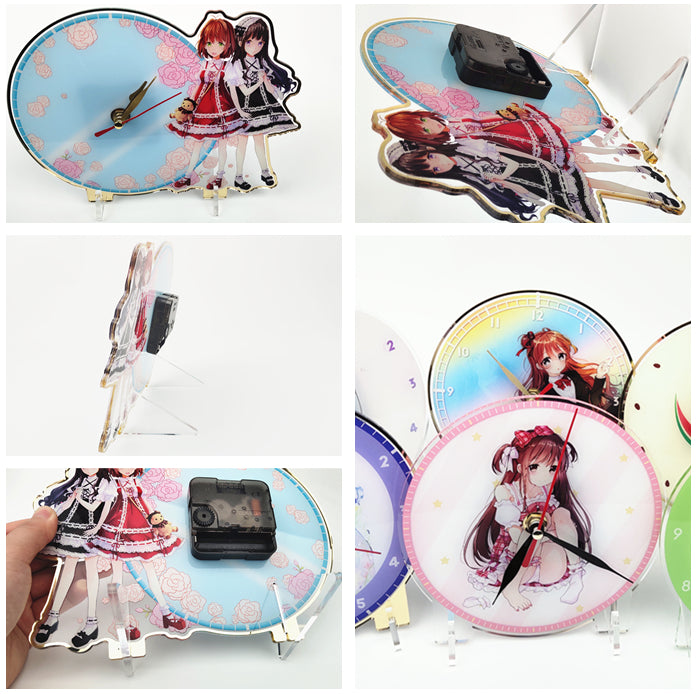 Vograce provides acrylic clock standees that are composed of acrylic stands, acrylic panel, pointers and movement. The shape, size, design on the clock are customizable. The max size can be 15x15 cm.
Vograce clear edge acrylic clock uses 2 acrylic layers 2.0 mm +1.5 mm UV printed. The stands are all clear, 84x41 mm and 3.5 mm thick. The size of the clock movement as shown in the picture: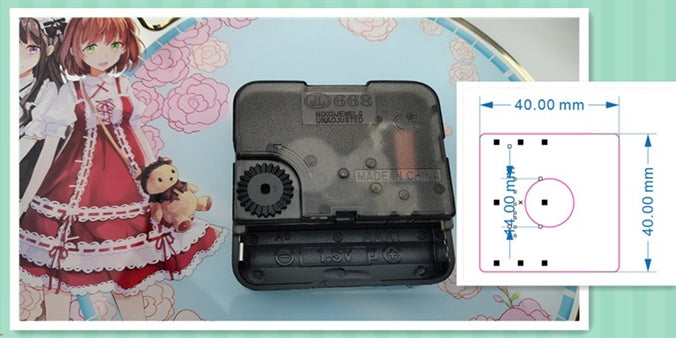 Except for the acrylic clock standees, Vograce also provides LED light acrylic standees with or without remote control.
Custom Colorful remote control LED standees manufacturing guide
For the remote control standee, black or white base is provided. 2 types of design of the base to choose from: touch to switch 7 colors; touch to switch + remote control 16 colors.    
The remote control is valid within 3 meters and powered by USB charging and 3 NO.5 batteries (excluded).    
Custom LED light standees without remote control Manufacturing Guide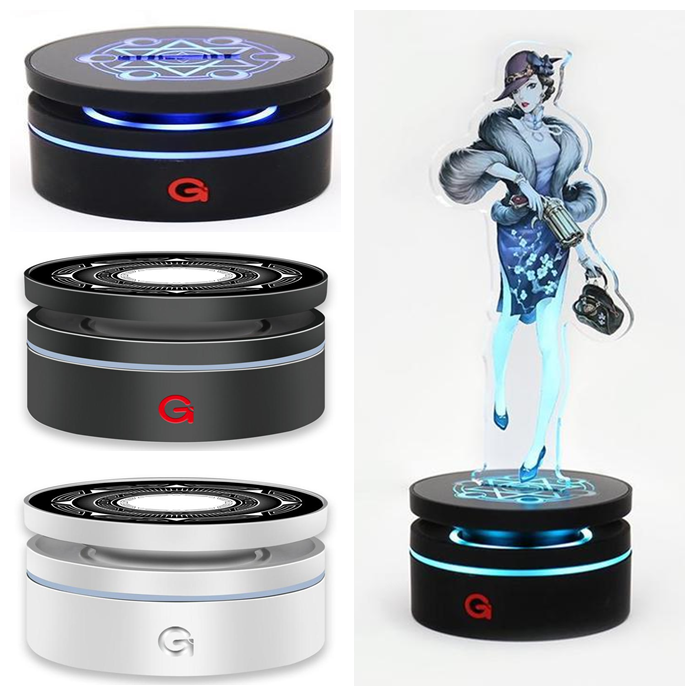 There are black and silvery bases to choose from. The led light can change colors and a touch operated, LED lamp base with 7 different colour modes including flash and fade. This type of LED light standee can be made as 60 mm x 150 mm at largest. This link only sells the base. If you want to customize the acrylic part, you can check the link of custom clear acrylic standees.
Our decorative standees made of acrylic are clear, pretty, durable with favorable pricing. The color and printed images don't fall off. The MOQ of Vograce acrylic standees is 1 piece. We provide expedited and standard delivery options. If you are interested, welcome to read How to make an order from Vograce.
---